Apple stock falls under $100 as the company reports lower iPhone sales for the first time
63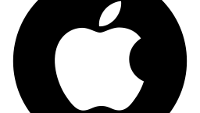 For the first time in the history of the Apple iPhone, Apple reported lower sales of the device on a year-over-year basis. For the company's fiscal second quarter, which covered the period from January through March, Apple sold 51.2 million iPhones. That was down 10 million units from the 61.2 million it sold during the same quarter last year. That works out to a drop of 16.3%. Despite the decline, Apple still managed to top Wall Street expectations which called for Apple to report a sales decline of 20% to 50.7 million handsets sold. But the average selling price, at $641, fell below expectations of $658, another dagger in the heart of Apple investors.
For the quarter, iPhone revenue amounted to $32.86 billion. At the same time, the company announced that it had sold 10.25 million iPad tablets, which amounted to revenues of $4.41 billion. The year-over-year decline in iPad sales amounted to 19%. Even more scary for Apple, overall sales to the Greater China region fell 26% over the year to $12.49 billion.
Tim Cook called the three months a "challenging quarter" and added that it is still the early innings of the iPhone. Apple added that many had upgraded to the new
Apple iPhone 6s
and
Apple iPhone 6s Plus
earlier than usual, creating a shortfall in demand for the period. The new 4-inch
Apple iPhone SE
and 9.7-inch
Apple iPad Pro
were not included in the figures since they went on sale too late to be included in the quarter. Apple did not disclose sales of the Apple Watch.
Overall, Apple generated revenue of $50.55 billion for the quarter, off 13% from $58 billion a year ago. The company earned $10.52 billion, or $1.90 a share. Last year's net was $13.57 billion, or $2.33 a share.
Investors were dumping Apple shares after the report with the stock trading at $97.25, down $7.10 in after hours trading.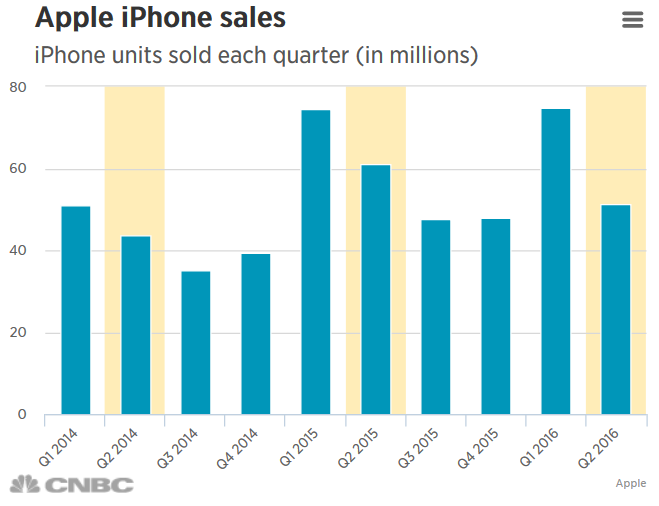 Apple reports its first year-over-year quarterly decline in iPhone sales
source:
Marketwatch
,
CNBC
Recommended Stories