Background downloading coming to the Microsoft Edge browser in a later version of Windows 10 Mobile
18
The Microsoft Edge browser for Windows 10 Mobile is going to be an app, giving Microsoft the ability to quickly offer updates through the Windows Phone Store. One update that will be coming down the road will allow for background downloading on the browser. That means that even with the browser closed, downloads will continue until they are completed.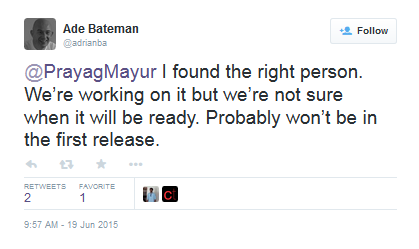 Background downloading is coming to the Microsoft Edge browser
Today, a tweet from Microsoft Edge Program Manager Ade Bateman revealed that background downloading is being worked on by the Edge team. But Bateman's missive, which was in response to an inquiry, also said that the feature probably wouldn't be included in the initial release of Windows 10 Mobile.
This is a change from Microsoft's position back in April, when the software giant said that background downloading was not being planned for the new mobile browser. Apparently the Edge team changed its mind. Now that Microsoft has confirmed background downloading will be available for the Edge browser, the only question is when it will arrive.
source:
@adrianba
via
WindowsCentral