BBM is coming to Android Wear powered smartwatches early this year
5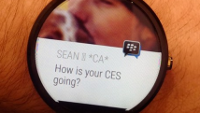 In its never ending attempt to get more eyeballs focused on BBM, BlackBerry announced at CES that Android Wear users can now access the messaging app from the smartwatch on their wrist. BBM for Android Wear will allow users to be alerted when a new BBM message is received. A preview of the message can be viewed along with the name of the sender.
BBM for Android Wear will also allow wearable owners to view complete messages with a single swipe. One swipe will also let users navigate between messages and dismiss notifications. Suppose you want to respond to a BBM message without having to pull out a phone. You can use Google Now to dictate a response to be sent immediately, or choose from a selection of pre-written responses that can be used. And without reaching for your handset, you can also accept BBM invitations directly from your smartwatch.
BBM support for Android Wear will start early this year. If you have BBM on your Android phone, the features of BBM for Android Wear will show up on your timepiece automatically.
"BlackBerry is committed to listening to our customers and integrating new features and partners to improve the BBM Chat experience. The integration of BBM to support wearable technology is just one way we're expanding the capabilities of our portfolio and delivering exciting options for customers to easily access BlackBerry's cross-platform technologies."-Herman Li, Senior Vice President, BBM Engineering and Product Management
source:
BlackBerry
via
ZDNet