BBM integration is on board with the latest update for the BlackBerry Foursquare app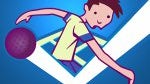 To add support for
BlackBerry Messenger
, or not to add it, that's the question being asked by the
official Foursquare app
for BlackBerry of late. In fact, a recent alpha version of the popular app was made available not too long ago offering support for it, but soon later after that an official update was rolled out omitting the feature.
Well, now the app has been updated yet again, but thankfully enough this time around, it's sticking for good to appease long time handset users.
Version 3.1
of the Foursquare app for BlackBerry is now available, and of course, the one major noteworthy item found with it is the useful integration of RIM's popular messaging service – thus, making it much easier to send pertinent Foursquare information to friends.
Besides that, it's hard to say what else is included with the latest update, but it wouldn't surprise any of us to find some sort of bug fixes and enhances along for the ride as well.
source:
RIM
via
CrackBerry