BBM for Android leaks out, "should be out by 2012"
20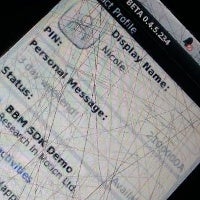 Rumor about RIM releasing an Android version of its hugely popular free BlackBerry Messenger (BBM) have been floating around for a while, but up until now they were lacking substance. Now, with a couple of pictures of an unnamed
Android device running BBM
, we can finally start to consider them more seriously. Moreover, BBM is expected to land on not only Android, but iOS as well.
The pictures allegedly show a beta version and the service is in the
"final stages of testing,"
according to an anonymous tipster sharing insights for tech blog T3. Of course, what bothers most of us is when? It
"should be out by 2012."
So what is it exactly that we see on the pictures except for the horrendously scratched display? The service is expected to deliver the same functionality on Android device as it would on a BlackBerry and carry the sweet price of free. Additionally, it seems to also
"work quite well with Android push notifications,"
which is welcome news.
There remains the controversy of how will this affect RIM in general as BBM was one of the exclusive factors attracting users to 'Berries. Recently, however, many people find their BBM contacts flocking to Android, prompting them to switch platforms also, so while it might not help BlackBerry sales, it might at least stop existing users from moving.