BBM Protected to come to Android and iOS in the fall, upping the encryption ante
3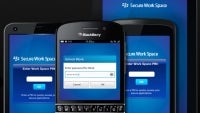 BlackBerry announced that BBM Protected will be available in June as part of the company's enterprise platform, but it's going to reach Android and iOS sometime in November with the launch of BES12. BBM Protected adds Suite B-compliant encryption (the minimum protection level for classified communications within the US government) on top of BBM's 3DES Universal Key encryption. This means that each message within the conversation is encrypted with its own random key. This way, even if potential attackers manage to eavesdrop and crack some keys, they will only get one particular message.
The first version of BBM Protected will work only on BB 6 devices and Regulated BB10.2+ activations. Regulated+Balance activations are set for a September/October time-frame. It goes without saying that both you and the conversation parties have to be using BBM Protected for the extra protection to kick-in. Unfortunately, it isn't clear whether BBMP will be offered to users free of charge, or on a paid basis. Enterprise users, however, will be charged a monthly subscription.
Some time ago, BlackBerry promised that the service will bring an
"unrivaled level of trust in enterprise messaging with end-to-end encryption of messages."
Hopefully, the next level of encryption will deliver according to the company's best traditions in security.
source:
CrackBerry