Audiovox CDM-8940 - the first 1.3 mega pixel phone from Verizon?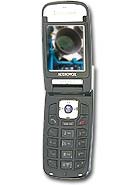 Verizon Wireless, the nation's largest wireless carrier is getting ready to launch a mobile phone with 1.3 mega pixel camera and 1xEV-DO high speed support. According to preliminary information from a FCC filing, the Audiovox CDM-8940 will be available from Verizon Wireless (tentative - unknown when). This is the first time information for this model surfaces, and PhoneArena.com is the first to bring it to you. Sprint PCS, the only U.S. carrier currently offering mobile phone with 1+ mega pixels also carries an Audiovox device – the CDM-8920.
Audiovox 8920

from Sprint PCS

The other phone with 1.3 mega pixel camera and 1xEV-DO support which is expected to be available from Verizon Wireless is the LG VX8000. Both VX8000 and the new 8940 sport Qualcomm's MSM6500 chipset, which supports 1xEV-DO high speed data.
| | |
| --- | --- |
| | LG VX8000 |
Going back to the Audiovox 8940, is it a clamshell device with expandable antenna. The main display is color TFT with 260,000 colors. There is also a smaller external display, but it is currently unknown the number of colors supported or its resolution. An interesting feature that we have not seen in a CDMA phone (there are some CDMA PDAs which have it) is the SD memory expansion capability. It is unclear if Verizon Wireless will bundle the sale package with a SD card, or it will be left up to the consumer to purchase one.
The new
Audiovox CDM-8940

The camera
is situated on
the back