Asus to lift the cover off an overhauled PadFone in February?
6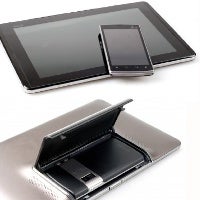 Last time we spotted the
Asus Padfone it was gearing up for launch
at MWC this February and it looked exactly the same as the model we saw almost a year ago, but the latest rumor suggests that Asus has overhauled the device and it now looks completely different.
Despite some reports about it sporting the NVIDIA Tegra 3 chip, most sources agree that the Padfone will launch with
Qualcomm's Snapdragon S4 platform
, which is expected to be even more powerful than the quad-core Tegra 3.
To freshen up your mind, the Padfone is a unique device - it's a phone that can dock into a tablet chassis, powering it on, so you get both a tablet and a phone. Additionally, the tablet chassis is rumored to - in turn - be dockable into the Transformer Prime keyboard dock.
Does this
Padfone idea make sense
? If Asus manages to offer a reasonably low price for the tablet chassis we can easily see some people migrate to this kind of device.