Asus Zenfone 3 Zoom vs Apple iPhone 7 Plus vs Samsung Galaxy S7 Edge: specs comparison
3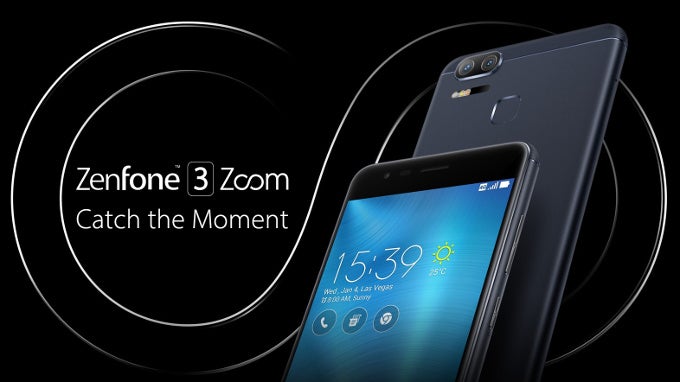 The
Asus Zenfone 3 Zoom
has just made its official appearance at CES 2017, and it's quite an impressive device: a 5.5" phone with a dual-camera system a la iPhone 7 Plus, and a large, 5,000 mAh battery that should last for days.
And while the Asus Zenfone 3 Zoom features the Snapdragon 625, one step short of the flagship-grade Snapdragon 8xx chips, it will likely compensate with a lower price. And there aren't that many affordable phones with top-rate cameras.
That's why we were interested to compare the new Asus Zenfone 3 Zoom against two immediate higher-priced, 5.5-inch rivals: the iPhone 7 Plus for its similar dual-camera system, and the Samsung Galaxy S7 Edge for its similar focus on a larger battery. Let's see how these devices differ in terms of their specs.
IPS LCD
Super AMOLED
AMOLED
625 cd/m2 (nit)
500 cd/m2 (nit)
Pressure-sensitive, Oleophobic coating, Scratch-resistant glass, Ambient light sensor, Proximity sensor
Scratch-resistant glass, Ambient light sensor, Proximity sensor
Oleophobic coating, Scratch-resistant glass, Ambient light sensor, Proximity sensor
Apple A10 Fusion APL1W24 (16 nm)
Qualcomm Snapdragon 820 MSM8996 (14 nm)
Qualcomm Snapdragon 625 8953
Quad-core, 2340 MHz, 64-bit
Quad-core, 2200 MHz, Kryo, 64-bit
Octa-core, 2000 MHz, ARM Cortex-A53, 64-bit
PowerVR 7XT GT7600 Plus
Adreno 530
Adreno 506
256GB, not expandable
32GB
128GB
iOS (15.x, 14.x, 13.x, 12.x, 11.x, 10.x)
Android (8.0 Oreo, 7.0 Nougat, 6.0 Marshmallow), Samsung TouchWiz UI
Android (8.0 Oreo, 7.1 Nougat, 6.0 Marshmallow), ASUS Zen UI
Qualcomm Quick Charge 2.0
Fast charging
21.00 hours
the

average

is 19 h (1110 min)
36.00 hours
the

average

is 19 h (1110 min)
48.00 hours
the

average

is 19 h (1110 min)
16.0 days (384 hours)
the

average

is 0 days (0 h)
3G: 13 hours; LTE: 13 hours; Wi-Fi: 15 hours
3G: 13 hours; LTE: 15 hours; Wi-Fi: 15 hours
Wi-Fi: 25 hours
12.00 hours
19.00 hours
6.00 hours
Dual camera
Single camera
Dual camera
12 MP (Sapphire crystal lens cover, OIS, PDAF, BSI sensor)
12 MP (OIS, Laser and PDAF)
Aperture size: F1.8; Focal length: 28 mm; Sensor size: 1/3"; Pixel size: 1.22 μm
Aperture size: F1.7; Focal length: 26 mm; Sensor size: 1/2.5"; Pixel size: 1.4 μm
Aperture size: F1.7; Focal length: 25 mm; Sensor size: 1/2.55"; Pixel size: 1.4 μm
12 MP (Telephoto, Sapphire crystal lens cover, Autofocus)
12 MP (Telephoto, Autofocus)
Optical zoom: 2.0x; Aperture size: F2.8; Focal Length: 56 mm; Sensor size: 1/3.6"; Pixel size: 1 μm
Optical zoom: 2.3x; Aperture size: F2.8; Focal Length: 59 mm
3840x2160 (4K UHD) (30 fps), 1920x1080 (Full HD) (120 fps), 1280x720 (HD) (240 fps)
3840x2160 (4K UHD) (30 fps), 1920x1080 (Full HD) (60 fps), 1280x720 (HD) (240 fps)
3840x2160 (4K UHD) (30 fps), 1920x1080 (Full HD) (30 fps), 1280x720 (HD) (30 fps)
OIS, Time-lapse video, Continuous autofocus, Video calling, Video sharing
HDR, Picture-taking during video recording, Video calling, Video sharing
Time-lapse video, Continuous autofocus, Object tracking, Picture-taking during video recording, EIS, Video calling, Video sharing
6.23 x 3.07 x 0.29 inches (158.2 x 77.9 x 7.3 mm)
5.94 x 2.86 x 0.30 inches (150.9 x 72.6 x 7.7 mm)
6.07 x 3.03 x 0.31 inches (154.3 x 77 x 7.99 mm)
6.63 oz (188.0 g)
the

average

is 6.5 oz (184 g)
5.54 oz (157.0 g)
the

average

is 6.5 oz (184 g)
6.00 oz (170.0 g)
the

average

is 6.5 oz (184 g)
Back: Aluminum
Back: Glass (Corning Gorilla Glass 4); Frame: Aluminum
Back: Metal
Water, Dust; IP67
Water, Dust; IP68
Fingerprint (touch)
Fingerprint (touch)
Fingerprint (touch)
Touch sensitive control keys
Touch sensitive control keys