Asus Transformer Pad 300 unboxing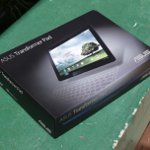 After spending some time checking out the
Asus Transformer Pad 300
back at
Mobile World Congress in February
, the latest Tegra 3 powered tablet from Asus is finally available for purchase – chiming in at a price point that's slightly less than the premier Transformer Prime. For
$399.99
, you get a full-featured Ice Cream Sandwich tablet that boasts many of the top-shelf qualities found with its renowned sibling. Luckily, we're now able to partake on a final retail unit to see whether or not it'll prove to be a hit as well.
Looking over the packaging for the Asus Transformer Pad 300, it's quite obvious that there's nothing different with it over previous offerings from Asus. Up front, we have a rendered image of the tablet in question, while on its sides, we find the usual set of brandings and a profile image of the tablet to show off its still perceived slim body. Inside, we're greeted with the
usual assortment of accessories
, like the documentation, proprietary USB cable, and wall charger. In addition, Asus is so kind to also include a
microfiber cleaning cloth
as well – to allow us to keep its pristine look as much as possible. Although it's not the first time we've seen them include it, we're always grateful to find it nonetheless.
We won't go into detail about the Asus Transformer Pad 300 for now, mainly because it was treated to a full hands-on treatment by us during MWC. Rather, we'll simply tell you what stands out initially for us. For starters, it sheds the metallic exterior of the Transformer Prime, and instead, it reverts back to employing the same
textured plastic casing
found with the original Transformer. Even though it's not the skinniest thing, we're content by its overall size and weight. Secondly, its
10.1" WXGA (1280 x 800) IPS LCD display
is still an attractive one thanks to its high-contrast, natural colors, and exceptional viewing angles. Lastly, we're thrilled to know that this bundle of joy is powered by the same
quad-core NVIDIA Tegra 3 processor
used by the Transformer Prime – and boy does it perform quickly!
Of course, we're all giddy and excited about this one, even though it might not seem as attractive as the Transformer Prime at a first time glance, but nonetheless, its $399 pricing seems to make up for a lot of things. Expect our in-depth review soon!