Asus Transformer Pad 300 Review
30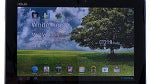 Introduction:
In the Android sphere, the
Asus Transformer Prime
is regarded by many as the best tablet, mainly because it flaunts some cutting-edge hardware and a killer industrial design. Well, if you prefer something a bit more easy on the wallet, you won't need to look that far – that's because the
Asus Transformer Pad 300
catches our eyes with its $399.99 price point. With the $100 difference in price over its renowned sibling, we're not getting a tablet that's skimping out on the goods, as the Transformer Pad 300 still features a mighty quad-core processor under the hood.
Design:
For the most part, the Asus Transformer Pad 300 doesn't deviate from previous offerings, as it continues to employ the same design principles akin to Asus' line of tablets. Overall, it looks almost exactly like the Transformer Prime, but it utilizes a lower quality textured plastic casing (available in blue, red, and white). Although it manages to retain a very similar streamlined construction (0.39" thick), its weight has been bumped up to 635 grams. Despite its all-too conventional appearance, we're comforted by its comfortable feel in the hand and solid construction.

Tucked in its usual spot above the display, a 1.3-megapixel
front-facing camera
is there for all our self-portrait snapshots and video chatting sessions.
Along the
left edge
of the tablet, we find a handful of things such the microphone, microSD slot, and volume control. Meanwhile, the only things found on the
top side
are the narrow sized power button and secondary microphone. All by its lonesome self, the tablet's 3.5mm headset jack is found on the
right side
of the tablet. Lastly, the proprietary charging power and dock connection slots are lining the
bottom
portion.
Flip it around
, there's an 8-megapixel auto-focus camera that's outlined with a chrome trim, while a narrow looking speaker grill is located not too far away.
Display:
After being mesmerized by the stunning displays found with the new iPad (3) and Asus Transformer Prime, we find ourselves just being content with the one on the Transformer Pad 300. Specifically, it features a 10.1" WXGA (1280 x 800) IPS display, which is actually the same one used by the original Eee Pad Transformer. By today's standards, its resolution is common amongst 10-inch sized tablets – thus, allowing us to make out fine text with little issues. Moreover, since it's an IPS panel that we're talking about, it exhibits all the pleasing qualities we expect to find, like having good viewing angles, a high-contrast appearance, and neutral looking colors.
Recommended Stories