Asus Transformer Pad 300 Series Hands-on Review
11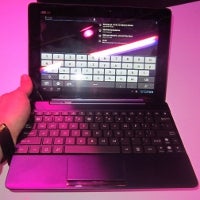 We thought "Tegra 3 on a budget" when Asus unveiled the Series 300 Transformer Pad sole representative, and after handling it for a while at the MWC, our initial reaction only got confirmed.
The
Transformer Pad 300
drops the aluminum for plastic and the price dips a $100 below the Transformer Prime to $399. It's still a serious computing machine powered by NVIDIA's quad-core Tegra 3 chip, but it's slightly bulkier and with added heft. The Transformer Pad 300 is 0.39" (9.9mm) thick and tips the scales at 22.4 ounces (635 g) - that's heavier than the aluminum-clad Infinity Pad.
The plastic is fairly
sturdy to the touch
, no flexing, and it is
patterned
for a better grip. The downgrade in build material has allowed for a few color options, like blue, white and red, so you can choose one to match your style.
The screen on the Transformer Pad 300 is the same great display as on the Transformer Prime - it's an IPS+ one with a resolution of 1280x800 pixels. It doesn't look as stunning as the Full HD display on the Infinity 700, of course, but up until recently the 300's resolution didn't bother anybody, and now you have the $100 off incentive to warm your heart.
When it comes to connectivity, Asus will be offering a 4G LTE variant as well, both with 1GB of RAM and 16GB of internal memory, that can be built upon with a microSD slot.
The optional keyboard dock accessory is with nice tactile feedback and
well-spaced keys
, plus it adds 5 more hours of battery life to the 10 hours off the grid the Transformer Pad 300 offers. Tegra 3 on a budget indeed, but you want be disappointed with the tablet experience once this baby lands with Ice Cream Sandwich onboard.