As spectrum deal closes, T-Mobile customers can look forward to faster 4G service
18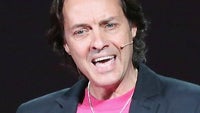 T-Mobile has closed on its deal to purchase a large block of 700MHz A-Block spectrum. This low band spectrum is more desirable than higher band spectrum because of its ability to travel longer distances and offer stronger indoor signals.
Verizon sold the A-Block spectrum to T-Mobile
for $2.365 billion. T-Mobile plans on deploying the spectrum right next to its 1900MHz holdings. CTO Neville Ray said that T-Mobile customers should start to see improvement in their service by the end of the year.
T-Mobile customers in New York, Los Angeles, Dallas, Houston, Philadelphia, Atlanta, Miami, Washington D.C., and Detroit will be the first to notice the changes. T-Mobile has already been crowned
the fastest 4G LTE carrier in the country
. Part of the reason is the use of 10MHz + 10MHz 4G LTE service found in 43 metropolitan areas, which provides download speeds as fast as 72Mbps.
The carrier is also testing out wideband service with 15MHz + 15MHz and 20MHz + 20MHz configurations, which provides even faster speeds. In Dallas, where the latter configuration has been tested,
download speeds as fast as 147Mbps were achieved
. The carrier used spectrum it received from its purchase of MetroPCS to develop the wideband service.
source:
SlashGear