Apple's wireless Bluetooth AirPods might not launch until early next year
15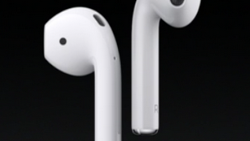 Earlier this month, sources said that the wireless in-ear
Apple AirPods would still be released in 2016
. In October, Apple had announced that it would be delaying the release of the Bluetooth powered product. Back then, Apple said that while the early response to the AirPods was incredible, "we don't believe in shipping a product before it's ready, and we need a little more time before AirPods are ready for our customers."
Now, it appears as though we might not find the AirPods available for sale until early 2017. That is the word from Barclay's Research. Analysts working for the banking firm say that supply chain sources don't expect the AirPods to go through the assembly line for another three to four weeks. Sadly for Apple, this means that the AirPods will miss out on the 2016 holiday shopping season. Priced at $159, the wireless Bluetooth earphones would have helped Apple generate a decent amount of additional revenue during the holiday quarter.
Not all of the anticipated holiday quarter AirPods' sales will migrate to the subsequent quarter. After all, some consumers might decide to
ante up a little more for Samsung's Gear IconX wireless Bluetooth earbuds
. The latter is priced at $199.99, $40 or 20% more than the cost of the Apple AirPods.
Barclays says that Apple will have a small initial production run of 10 million to 15 million AirPods next month. That sets up the product for a fast sell out, and extended shipping dates weeks in the future. That's nothing you haven't seen before from Apple, especially during iPhone launch season.
source:
MacRumors