The Apple AirPods are still coming this year, claim sources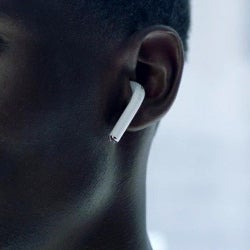 Apple came out swinging during the
iPhone 7
launch event, announcing what is probably the best set of truly wireless
earbuds
out there in terms of price/value ratio - the
AirPods
. The funky looking gizmos can run for 5 hours on a charge, and go for $159, while comparable buds like Samsung's
IconX
go for more but only last 2-3 hours, or last similarly, but cost $300.
So far so good, the
AirPods
sound great on paper, but the problem is you just can't grab those things yet. In a not-so-typical fashion, Apple announced them, but said they will
launch some time in October
. Well, Halloween came and went, but the AirPods are still playing ghost, while Apple issued a statement that the launch will be delayed because "
we don't believe in shipping a product before it's ready
."
That's boilerplate PR talk for "something was not right and will take some time to fix," but yesterday a rumor emerged that the AirPods might be greatly delayed for January 2017. Apparently, that won't be the case, tip insiders, and Apple is still on track to launch them this year. Moreover, according to one retail source, "
We're ready to go any time. We've got a few pairs for customer demonstration that we're just waiting on the word to start with.
"
Now, whether this means that the launch will happen next week, or on Christmas, is anyone's guess at this point, so if you are in the market for truly wireless buds, check out some of the best AirPods alternatives we've outlined for you below.