Apple's South Korean offices are raided the day before the iPhone X launches in the country
37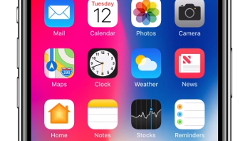 A few days ago, we told you that
the Apple iPhone X did very well in South Korea by selling out during the pre-order period that ended today in the country
. That means that starting Friday, the tenth anniversary iPhone model can be purchased in LG and Samsung's own backyard. Last week, it took Korean carrier SK Telecom just 3 minutes to sell out its pre-order inventory of the
iPhone X
. Last year, it took 20 minutes for SK Telecom to sell out its pre-order inventory of the
Apple iPhone 7
and
Apple iPhone 7 Plus
.
On Thursday, the day before the launch of the iPhone X in South Korea, officials in the country raided Apple's South Korean headquarters and asked employees questions about the American company's business practices. Conspiracy theorists wonder whether South Korea is trying to somehow interfere with the iPhone X launch in the country on behalf of Samsung and LG. The latest raid by authorities is said to be related to South Korean authorities fears that Apple will monopolize the smartphone business in the country. For example, in 2015 Apple controlled 33% of the South Korean handset market leading the country's FTC to investigate whether foreign manufacturers were hurting the domestic handset market.
"South Korea's anti-trust agency has exhibited alarming behavior that threatens the viability of companies doing business in South Korea, including such major American corporations as Apple, Google, Intel, Microsoft, Oracle and Qualcomm."-Erik Telford, president, "Franklin Center for Government & Public Integrity"
In South Korea, Samsung recently launched a program called 'Upgrade to Galaxy;' this is a one month trial that allows 10,000 iPhone users in South Korea to try the
Samsung Galaxy S8
or
Samsung Galaxy Note 8
for one month.
As soon as the South Korean authorities release some information pertaining to the raid of Apple's HQ in South Korea, we will pass along the information to you ASAP.
source:
Metro.co.uk
via
BGR