Apple rumored to make switch to glass-film touch panels for Apple Watch Series 3
9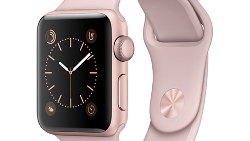 When the Apple Watch Series 2 launched, it marked a change in the display used on the timepiece. Instead of using the two pieces of glass (G/G) touch panels employed on the original device, Apple switched to TOL (touch on lens) for the Series 2 version of its watch. This proved to be a hardship for supplier TPK Holdings.The company produced the panels and found that its yield rates were low and stayed low for TOL. The main issue was the curve in the screen.
TPK has been reporting losses thanks to the low TOL yields, and the company has apparently decided to stop supplying glass panels for the Apple Watch in the hope that it can return to profitability. Meanwhile, Apple has reportedly decided to move to a different form of panel for the Apple Watch Series 3. For the next version of the Apple Watch, the gang in Cupertino is said to be turning to G/F (glass-film). Possible suppliers will be General Interface Solutions out of Taiwan, or Hong Kong's Biel Crystal Manufactory.
Shipments of the G/F panels will start in the second half of the year, which dovetails with reports that the Series 3 Apple Watch will launch sometime in the Fall of 2017.
source:
Digitimes