Apple receives patent to help detect aging circuitry, adjust firmware to accommodate old hardware
12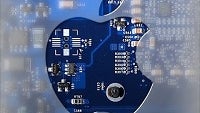 As our gadgets get older and the software gets newer, invariably, we notice a degradation of performance. Some of it is wear and tear, some of it is simply old technology having trouble dealing with the new tech.
Among those conflicts at a physical layer is literally the age of the equipment. The circuit board may have been originally built around a set of tolerances related to power and current. As firmware updates, those factors can change, affecting performance.
Apple was granted patent number 8,671,170, "Modifying operating parameters of a device based on aging information." Basically, it is a way for the firmware to determine if the transistors in your old iPhone are too old to handle things as programmed, and then adjust to meet those needs, like voltage threshold.
Think of it as digital crowd-sourcing. A remote server could develop profiles for groups of older equipment and then the firmware can be adjusted for those devices to ensure optimal performance. It would be a natural assumption that this would further the life of such devices. It is another way to make circuitry more resilient against time.
source:
The Register