Apple patents hole-in-display selfie camera for the top right corner
30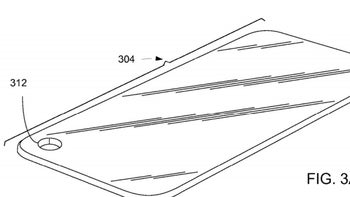 Apple has elaborated
further
and in greater detail on the hole-in-display solution to minimize bezels on "all-screen" phones. Some employ notches, some sliders, others trim the rims, and soon we may see small openings in the displays themselves that would house the front-facing paraphernalia, starting with the selfie camera.
Huawei
has such a patent
, and Samsung already presented this type of screen as an
O-type
in its new Infinity line of displays. The Infinity O is even rumored to
end up in the Galaxy S10
, Apple may be prepping something in the same vein, or simply doesn't want to be left behind patentwise in case it decides to drill holes in its displays instead of using top bezel protrusions to house the Face ID kit.
The
fresh Apple patent's PDF
has been unearthed by
LetsGoDigital
. It has been approved by the USPTO on November 8, but filed back in June, goes to great lengths to explain how it will all be done. While the patent mainly deals with the mechanics of drilling the cover glass in order to incorporate the front-facing camera's lens, it also mentions "or displays" in conjunction, inferring to cell phones while doing it.
Thus, while
under-display
selfie snappers may be too big of a challenge for now, simply drilling a tiny hole or two in the screen package shouldn't be an insurmountable problem for companies of the Samsung or Apple rank, and we may see such flagships become mainstream as soon as 2019. If Apple indeed
ditches the notch
for this solution then, the irony won't be lost on all that copied this lazy design for no good reason, we hope.