Newest Samsung patent hints at under-display camera, bezel-less design
11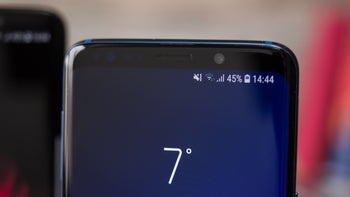 The Samsung Galaxy S9's traditional camera placement
After kicking off the tall display trend in 2017, Samsung is set to announce the first smartphone
with a display hole
early next year. However, if
a new patent
is anything to go by, this design could soon be followed by a completely bezel-less look.
More specifically, the brand's latest patent envisions a smartphone that utilizes a variety of under-display sensors. In order for this to work,
Samsung
makes use of three layers. The first is a bracket that is home to a transparent antenna and any necessary sensors such as the front-facing camera and the in-ear speaker. This panel sits beneath the display, which includes micro-holes over the areas with sensors underneath. Lastly, all of this is covered by a layer of glass which conceals both the camera and in-ear speaker holes from the user completely.

Interestingly, the module that contains the front-facing camera may also contain the rear sensor, according to this patent. This could have something to do with space-saving measures. Another interesting feature comes in the form of hologram projection which allows the device in the patent to project 3D objects.
The news of this patent comes just weeks after it was confirmed that Samsung is currently working on
under-display tech
. No exact timeline was provided but it was suggested that it could make its way to smartphones by early 2020, perhaps in time for the Galaxy S11.