Apple may unveil iOS 5 and a new MobileMe in early April
1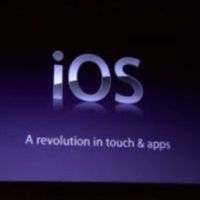 Earlier rumors suggested that last week's
iPad 2 event
would include a mention of iOS 5. But alas, those rumors were unsubstantiated. Now, the German site,
Macerkopf
, reports that
Apple
is planning an April event to unveil both iOS 5 and a new MobileMe.
An April announcement is in keeping with Apple's typical schedule, in which the new OS would be announced to give developers a jump on the June or July release of a new device. For example: the
iOS 4
announcement took place on April 8th of last year, preceding the iPhone 4 announcement. So we're inclined to believe this new rumor.
A combined MobileMe and iOS 5 announcement would be logical, considering their allegedly converging functionality. MobileMe will likely expand to include many new cloud services, including iTunes syncing. iOS 5 is also expected to improve the much-criticized notification system of iOS devices. And a recent Apple acquisition points to such a change in notifications.
We can't speak on the credibility of
Macerkopf
's source, so we should take this rumor with a grain of salt. But considering Apple's typical timeline, the event seems likely.
source:
Macerkopf
via
Redmond Pie