Just a friendly reminder - iOS 4 launches today
This article contains unofficial information.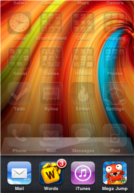 As there will be many looking forward to June 24th when the next iteration of the iPhone commences with its official launch, there is something else to be happy about starting today – the long awaited release of iOS 4. Some time today, Apple will be giving the green lights to roll out the next evolutionary mark for their highly prized mobile platform that's consistently being fine tuned with each release. It's actually being rumored that 1:00 EST will be the moment when it starts getting pushed out to handset owners – so you'd probably want to get ready with it beforehand. All you need to do prior is to simply have the latest version of iTunes installed on your computer and to perform a backup. We know that owners have been itching for this, but soon you'll be able to find solace with all the packed goodies along the ride with iOS 4.
via
App Advice