Apple is refining the News app with streamlined interface and convenient new features
2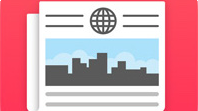 Apple is giving certain iOS 10 apps a fair bit of polish in hopes to attract even more users. One such app is News, which might be doing fairly well with its 60 million monthly active users and over 2,000 active publications, but there are still ways it can go. Thus, Apple is streamlining its content feed app with a less cluttered interface and new features, such as subscriptions, breaking news, and alerts.
Subscriptions will let users read news from choice publishers, while the curated 'For You' section has been separated into smaller segments that make it more manageable and easier to follow. There's also a new 'Trending News' section along with the topics followed by users. The app can now generate new topic sections based on what you like reading. And finally, News will also push breaking news notifications onto your iOS lock screen so you don't miss out on important headlines.
The reworked Apple News app will ship with the iOS 10 update in September.