Apple is America's brand of the year for smartphones and tablets, Verizon the preferred carrier
32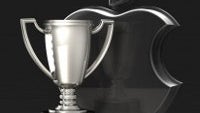 A research by
Harris Interactive
has polled some 38,500 Americans on their brand preferences across categories such as smartphones, tablets and mobile carriers. As you gleaned already, Cupertino ranked first in the smartphone and tablet categories – an impressive feat considering the stiff competition.
Of course, Apple being an American company has an inherent advantage over its rivals on home turf. Nevertheless, the tech giant has flexed its muscles for the world to see, with a better than expected quarter, where it shipped some 31.2m smartphone devices. Speaking of smartphones, the verdict is the following.
Brand of the year in the smartphone category:
1. Apple: 2013 Mobile Phone Brand of the Year, for the second consecutive year
2. HTC
3. Samsung
4. LG
While HTC has traditionally enjoyed some serious support in the States, it is still surprising to see it top a much larger rival like Samsung. Considering its weak sales in the US, it's less of a surprise to see that Nokia didn't get into the top four.
Turning to tablets, the iPad has remained the king of the jungle. With Samsung a distant fourth, it's Amazon and Google breathing in Cupertino's neck.
Brand of the year in the tablet category:

1. Apple iPad Series: 2013 Tablet Brand of the Year, for a third consecutive year
2. Kindle Fire Series
3. Google Nexus Series
4. Samsung Galaxy Series
5. HP Slate Series
"Americans continue to give Apple brands strong ratings," commented Manny Flores, SVP for Harris Interactive. "And while their Consumer Connection scores are strong within their respective categories, what really stands out is that in all three of the categories Apple brands are measured - Computer, Tablet and Mobile Phone - its Brand Momentum scores are in the top 30 of all 1,500 brands evaluated in the study, showing that consumers see this as a brand of the future."
And carriers? No surprises here – it's the two behemoths, AT&T and Verizon, that are battling it out. Bigger is better, it turns out, as Verizon snaps the first spot across two categories:
Brand of the year in the Mobile Network category:
1. Verizon: 2013 Mobile Network Brand of the Year, for a second consecutive year
2. AT&T
Brand of the year in the Pre-Paid Mobile Network category:
1. Verizon Wireless: 2013 Pre-Paid Mobile Network Brand of the Year, for a second consecutive year
2. AT&T GoPhone
3. TracFon Wireless
source: Harris Interactive via VentureBeat, Image courtesy of
Norebbo