Apple iPhone loses market share in the U.S. during the third quarter, but remains on top
59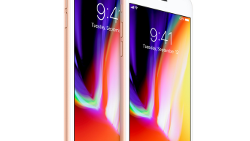 Despite losing 2.1 percentage points of market share in the U.S. during the third quarter, the iPhone remains the most popular smartphone in the U.S., accounting for 30.4% of smartphones shipped in the states. According to the latest figures from Strategy Analytics, Apple delivered 12 million iPhone units during the three months from July through September. That was down from the 13 million it shipped during the same time last year as some consumers delayed purchasing the
Apple iPhone 8
and
Apple iPhone 8 Plus
until the
Apple iPhone X
launched in November. In second place, Samsung saw its shipments rise by 200,000 phones to 9.9 million, taking its U.S. share to 25.1% from 24.2%.
LG had a quarter of growth as its U.S. shipments rose from 6.5 million to 6.8 million. The firm's market share increased by 6.2% to 17.2%. ZTE was next as the Chinese manufacturer grew its U.S. share in the third quarter by 2.5 percentage points to 11.6% from 9.1%. Shipments rose from 3.6 million to 4.6 million year-over-year.
The best performer among the top five during the quarter was Motorola. Strategy Analytics says that the company rose its U.S. smartphone deliveries by 91% during Q3, from 1.1 million handsets to 2.1 million. That enabled the struggling company to grab a 5.6% share of the U.S. smartphone market from July through September, up sharply from the 2.7% slice of the pie it achieved in 2016's quarter.
Overall, 39.5 million handsets shipped in the U.S. during the third quarter. That was a 1.5% decline from July through August.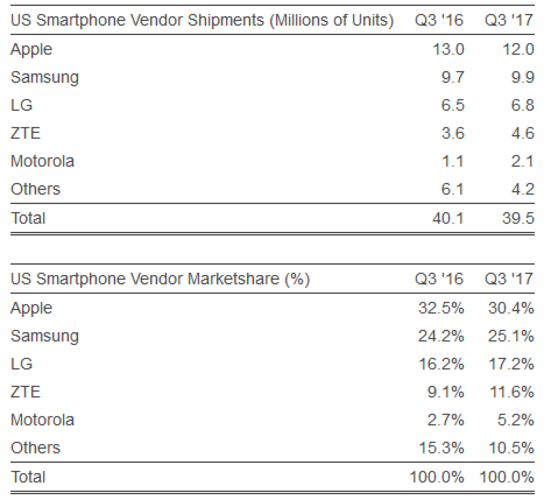 Apple and Samsung remain the top two smartphone manufacturers in the U.S.
source:
StrategyAnalytics