The horror: iPhone 7 price and release date in UK, Germany, France, China, Japan and others
53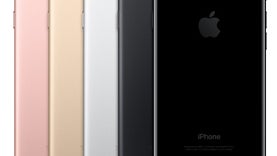 Want to feel better that you have to shell out at least $749 if you want to
get the new Jet Black edition
of the iPhone? Well, we flew over Apple's store pricing around the globe, and handpicked a few important countries from the first batch that will be getting the phone next Friday, September 16.
As you can see, in each and every one of these the iPhone 7 and 7 Plus sell for more than in the US, and in some cases (looking at you, oil-rich Norway) they go for much, much more.
How about them $903 apples in Norwegian currency, or that $898 for a basic 32 GB iPhone 7 in Italy? Sounds more than you can handle? Just wait for the Brazilian prices when Apple's new phones hit there in the second, September 23 batch - those tags are
notorious
.
| | | |
| --- | --- | --- |
| Country/phone | Apple iPhone 7 32 GB | Apple iPhone 7 Plus 32 GB |
| US | $649 | $769 |
| UK | $799 (£599) | $959 (£719) |
| Canada | $698 (CAD 899) | $814 (CAD 1049) |
| Australia | $828 (AUD 1079) | $973 (AUD 1079) |
| China | $809 (RMB 5388) | $959 (RMB 6388) |
| Japan | $716 (72,800 ¥) | $843 (85,800 ¥) |
| Germany | $853 (759 €) | $1011 (899 €) |
| France | $864 (€ 769) | $1022 (€ 909) |
| Italy | $898 (€ 799) | $1055 (€ 939) |
| Switzerland | $783 (CHF 759) | $927 (CHF 899) |
| Netherlands | $864 (€ 769) | $1022 (€ 909) |
| Norway | $903 (NOK 7 390) | $1074 (NOK 8790) |
| Spain | $864 (€ 769) | $1022 (€ 909) |
| Mexico | $843 (MXN 15499) | $996 (MXN 18299) |