Did you know: In Brazil, the most expensive Apple Watch costs north of $30k, least expensive starts at $625
12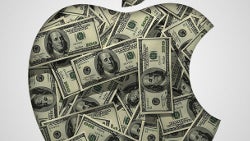 The Apple Watch is the company's most personal, first truly wearable piece of technology, and as the first lucky buyers have already received their units and started experiencing life with the timepiece, others have not had that opportunity on an equal footing.
An interesting comparison has surfaced showing the outrageous difference in pricing of the Apple Watch in various countries, and Brazil is one of the victim countries where the Apple Watch costs much more than the company charges for it in the United States. The reason likely lies in local taxes and not Apple policy alone (there is no clear way to know, though), but fact remains that prices for the Apple Watch in Brazil are just too much.
The least expensive Apple Watch - the aluminum Sport edition one - starts at $349 in the United States for the smaller, 38mm version, which is not a cheap price to pay for the wearable given that other smart timepieces come at almost half the price. In Brazil, though, that very same model is even more expensive. In fact, the price for the cheapest Apple Watch available is set at the mind-boggling $625 (in USD equivalent, the price in local currency is set at 1,799 Brazilian real).
Looking at the most expensive Edition models, the ones made out of 18-karat solid gold, the price sky-rockets from an original $17,000 for the most expensive one that Apple charges in the United States, to a ridiculous $30,000 for the very same model in Brazil.
You can find the full list of prices and the premium charge for having this truly luxurious (in terms of price) products in Brazil.