Apple iPhone 5se in retail box leaks (Update: FAKE!)
55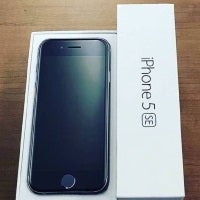 The 4-inch iPhone is definitely happening, and it won't be called the "iPhone 6c" or "iPhone SE". This is what these leaked photos of the brave little 4-incher in its retail packaging are telling us. We think you'll agree that they look like the real deal, and not like renders or other types of elaborate fakes. The box is clearly labeled "iPhone 5SE" and shows the device in Space Gray, complete with a fishy wallpaper like that of the iPhone 6s.
Inside the box, we see a handset that basically took the best of both the iPhone 5s and iPhone 6/6s' designs. It's covered in curved glass and features a TouchID home button. The design visibly corresponds with
the schematics that leaked last week
.
The handset will be priced between $450 to $500.
From previous reports, we've came to know that the iPhone 5se is designated with A1622 and A1723 model numbers, possibly differentiating the 16GB / 64GB storage variants. It will be powered by the A9 chip and it will have 1GB of RAM. The handset has a built-in NFC chip and is said to feature
a 12-megapixel rear camera
, with Live Photos support and 4K video recording in the realm of possibility. Its battery capacity is 1,642 mAh. We also know that the device will not have the iPhone 6s' 3D Touch display, but it will have connectivity options like 802.11ac Wi-Fi and Bluetooth 4.2.
The iPhone 5SE is rumored to launch with at least three color options – Gray, Silver, and Gold – with the possibility of Pink in place of the charming Rose Gold color. The handset will be priced between $450 to $500. Sites such as Macrumors have also stated that the iPhone 5s won't disappear with the launch of the iPhone 5SE, and will be sold by Apple at half the price. The iPhone 5s is currently selling at $450, which means it may be discounted to $225 after the iPhone 5SE's release.
The new 4-inch iPhone's announcement is rumored to happen at a March 22nd event, but the company hasn't yet released any official details or invites to the public.
source:
kkj.cn
via
Times News