Apple iPad mini can now be ordered for next-day pick up at the Apple Store
26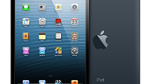 You can order an
Apple iPad mini
online and then wait for two weeks until it arrives, or you can order it online and
pick it up the very next day
at an Apple Store. Apple is now allowing a limited number of reservations to be placed after 10pm each evening. Those interested can go online and enter an order to purchase an Apple iPad mini, but instead of clicking on "Ship," you click on the "Pick up" option. The number of units available each evening for next day delivery varies and is updated.

Order the Apple iPad mini online for next day pick up
This is similar to the system used by Apple in China where units are reserved during a specific time period and buyers are given a specific time to pick up their device the very next day. On Friday, the Apple iPad mini was launched in 34 countries. Available in black or white, the Wi-Fi only version of the tablet
starts at $329 for 16GB
, $429 for 32GB and $529 for 64GB. The Wi-Fi and Cellular version of the Apple iPad will ship in mid November priced at $459, $559 and $659 for 16GB, 32GB and 64GB respectively.
source:
Apple
via
AppleInsider