Apple iPad mini 2 aluminum shell leaks in high-res photoshoot, forgets it has nothing new to show
24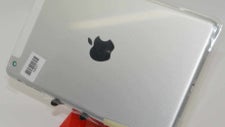 The iPad mini 2, the second generation 7.9-inch Apple tablet, is expected to get officially unveiled soon, and now the rear
aluminum shell of the device has leaked out once again
in a high-res photoshoot revealing the tiniest of detail. There is not much new in the iPad mini 2, or whatever Apple calls its second generation iPad mini.
The rear housing looks virtually the same and we're looking at an iPad mini with cellular connectivity here as you have the top of the rear shell of the device covered with a strip plastic, a feature designed to allow better signal throughput.
Speaking of unchanged design, we are not seeing anything new. The separate volume buttons, the rear camera location, the stereo speakers on the bottom and the new Lightning port are all where they were in the original iPad mini.
The leak looks credible and we don't expect Apple to change the design of the new iPad mini this year. There should be other important changes, though. With Google upping the ante with the affordable Nexus 7 offering a stunning high-res display, Apple is now basically forced to put a 'Retina' display in the iPad mini as it just won't look competitive, so that's one huge improvement we expect to see. The usual hardware upgrade should also be there. What else do you expect of the 2013 iPad mini?
source:
Sonny Dickson