Apple announces 64% iOS 7 adoption to date, reiterates launch weekend numbers
20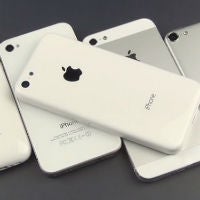 Apple has just kicked off its announcement event for the new iPads (and more). If you can't watch the
live stream
for yourself, we are here to bring you the news. Right off the top, Apple gave out some interesting numbers about the iPhone and iOS 7 launch. While CEO Tim Cook didn't break down the numbers too much, or elaborate, the opening weekend sales of the iPhone were impressive.
Cook reiterated the
original announcement
that it was the biggest iPhone launch to date, and the company sold 9 million iPhones in that opening weekend. He didn't breakdown the sales of the iPhone 5c compared to the 5s though. Interestingly, the numbers only cover the launch weekend. Apple has reportedly had supply issues with the iPhone 5s, which has cut into sales, so it will be interesting to see what the full quarter sales look like for the company.
Cook also broke down a bit on the iOS 7 update. He said that just 5 days after its release, 200 million devices had upgraded to the new version of the operating system. Interestingly though, only 64% of iOS devices have updated to iOS 7 as of now. That's better than you would expect on Android, but it seems a bit low for an iOS update after one month.
source: Apple