Apple Watch Heart Analyzer gets a complete redesign, adds new features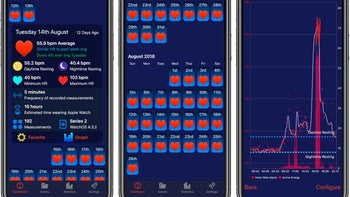 Heart Analyzer
, the app that can save your life by detecting anomalies of your heart, is getting an overhaul complete with new features and improvements. Before we go into details, it's worth mentioning that developers backtracked on their initial statement and confirmed that both iOS 11 and WatchOS 4 are still supported by the app.
Now, if you have an
Apple Watch
powered by WatchOS 6, then you'll be able to enjoy a brand new, fluid interface built with the latest technologies for this specific smartwatch. There are new visuals that will show your recent heart rate and graphs of the day, and various metrics such as Activity and Cardio Points from the past week, which you can see directly on the watch.
But that's not all. Developers announced that Heart Analyzer users can now view in-depth details on their workouts from the past week including heart rate info and graphs. You can even choose your complication preferences from the Apple Watch and take advantage of the customization options, which include a new daytime graph option for those who don't wear their watch at night.
All of the above are only available on
Apple Watch
models running WatchOS 6.0, but all Apple Watch users are getting improved complication update times, which should keep them more in sync with their heart rate, as well as various graph improvements and tweaks.
The changes to Heart Analyzer go beyond the Apple Watch, so you'll notice on the iPhone that you can view partial Heart Reports from halfway through the month. Also, breaks are now supported in workout graphs to allow you to see when you took a break and your average heart rate is no longer impacted by this.
Also, a new screenshot mode has been added to day graphs for those who want to print them, and that concludes the list of changes included in the update. As for the bug fixes that developers have added in the latest version of Heart Analyzer, the changelog mentions one that prevented the Dashboard from showing your most recent workout icons.
Furthermore, a few metrics that were slightly off from days with missing data have been adjusted, and a bug where Heart Reports could display the incorrect minimum heart rate reading has been addressed. Finally, the app's purchase screen has been tweaked for clarity.