Apple Pay expands to even more banks in the US and five other countries
6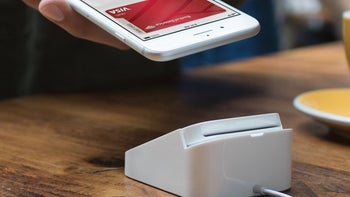 It's been
less than two weeks
since Apple Pay expanded to more markets, but now a new wave of banks and financial institutions from no less than six countries are getting support for the mobile payment service.
Besides the United States,
Apple Pay
is now available for more banks in Canada, China, Italy, Russia, and Spain. Naturally, the list of newly supported Apple Pay banks is bigger for the US, but it's quite refreshing to know the service is slowing making its way to other countries as well.
United States
: 5 Star Community Credit Union, AlaTrust Credit Union, Apple River State Bank, Bank of Weston, Community Bank of Elmhurst, Farmers & Merchants Savings Bank, Farmers and Merchants Bank of South Carolina, First Bank of Coastal Georgia, First Citizens Federal Credit Union, First National Bank of Gillette, Killbuck Savings Bank, Lighthouse Bank, Merchants Bank (AL and MN), Morton Credit Union, MutualBank, One Credit Union, SeaComm Federal Credit Union, Security First Bank of North Dakota, Ukrainain Federal Credit Union, Unico Bank, United Fidelity Bank, and Wayne Westland Federal Credit Union.
Canada
: Assiniboine Credit Union, Cambrian Credit Union Limited, Steinbach Credit Union, and Vancity.
China
: Bank of Baoding, Xiamen Bank, Yinzhou Bank, Yunnan HongTa Bank, Yunnan Rural Credit Cooperatives, Zhejiang Chouzhou Commercial Bank, Zhejiang Rural Cooperatives, and ZhongYuan Bank.
Italy
: Buddybank, CARTA BCC (banca credito cooperativo), Cassa Centrale, Casse Rurari Trentine (credit cards), and Credit Agricole (cariparma, friuladria, Carispezia) (credit and debit cards).
Russia
: Credit Bank of Moscow, and Credit Ural Bank (Visa debit and credit cards).
Spain
: Caja Rural (Visa debit and credit cards), EVO Banco (Visa debit and credit cards), and Openbank (previously Mastercard cards only).
As you can notice, there are some limitations to the service in Italy, Russia, and Spain, but at least some customers will be able to use Apple Pay in these countries.