Apple HomePod: how to preorder and buy Apple's first smart speaker
5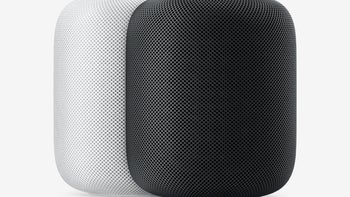 Apple's first smart speaker, the Apple HomePod, is finally here. It is loud, equipped with 7 tweeters and 1 woofer spreading sound in all directions. It is smart, powered by Siri and capable of intelligently adjusting its output to its surroundings. But most importantly, it is going on sale today; at least in some parts of the world, that is.
So, how do you buy Apple's latest gadget? How to get your hands on Apple's first smart speaker? Allow us to explain.
How to preorder the Apple HomePod?
Want a HomePod? Pre-orders begin today, Jan. 26!
UPDATE:
The Apple HomePod preorders are now live at both BestBuy and the Apple Store.
The Apple HomePod preorders are set to begin today, January 26, in the United States and the United Kingdom. Technically, preorders in Australia will begin on January 27, according to Apple's own website, though it seems like this could be due to the time difference, not because they'll start at a later time.
If you want to place a HomePod preorder, you may do so via Apple's own web site or from its Apple Store mobile app. Taking the latter route is known to be a faster and smoother experience, especially if Apple has your credit card information on file. Currently, the Apple Store app makes no mention of the speaker, but we do expect it to appear once the preorder floodgates open.
Alternatively, you can preorder the Apple HomePod at BestBuy. The big box retailer has announced that it will begin accepting HomePod preorders today, January 26.
At this time it is not clear if the Apple's HomePod supply will meet the demand, though if you want to be among the first to have one, preordering the speaker ASAP would be wise.
Where to buy the Apple HomePod?
If you don't feel like preordering a HomePod, you will be able to pick one up at an Apple retail store starting February 9. To reiterate, we're not sure how many units Apple will have in stock, so if you want one, be on site early. BestBuy is also going to have the HomePod speaker on display from February 9 onward.
In the UK, the Apple HomePod will be available at the following outlets: Argos, Dixons Carphone (Currys PC World), John Lewis, Shop Direct (Very and Littlewoods), EE and authorized Apple Premium Resellers. Australian buyers will be able to pick one up at and The Good Guys, Harvey Norman, JB Hi-Fi, Myer and Telstra in Australia, beginning Friday, February 9. HomePod will be also available in France and Germany this spring.
More on Apple HomePod: