Angry Birds is flying to a WP7 handset near you starting on May 25th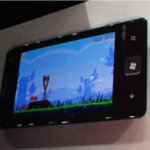 Back when Windows Phone 7 launched last fall, Microsoft unfortunately hit the gun way too early because they
mistakenly placed Angry Birds as one of the apps slated for the new platform
. However, the case was not so as we came to find out, but up until today, there still was no word regarding the game's potential presence with the platform.
Well, that's changing because Microsoft confirmed today at MIX 2011 that the popular game is coming to a Windows Phone 7 handset near you starting on May 25th. Yes, you heard that right! All of the Angry Birds fun is about to happen with Windows Phone 7 – which was
rumored early last month
to finally arrive, but no date was confirmed.
As much as we're excited about it, there is no say about whether or not it'll be a free or paid game – but nevertheless, it's still nice to see that it's coming soon. Circle your calendars people!
via
WMPoweruser