Android to BlackBerry PlayBook application conversion made easy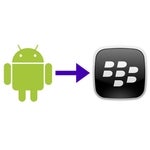 If for one reason or another you need an APK file (read Android application) converted to a BAR file, which can be executed on the
BlackBerry PlayBook
, now there is a third-party web site that will come in handy. The procedure is pretty straightforward: just upload the desired application and after the remote server does its magic, you will be presented with the software in BAR format. The time that it takes for that to happen depends on the server load, so patience may be required.
Even if you don't have an APK handy
, there is a list of recently converted applications, which you can download at the click of a button. However, whether getting the app to run on RIM's tablet just as easily is something we don't really know, given that the company introduced
changes to its app sideloading policy
not long ago. Nevertheless, BlackBerry PlayBook owners are free to give it a try by following the source link below. Those of you who succeed should not hesitate to brag about it by dropping a comment.