RIM will not remove app side-loading from the BlackBerry PlayBook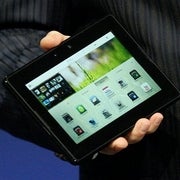 So, it seems like app side-loading for the
BlackBerry PlayBook
will not be removed after all, even though that is exactly what Alec Saunders, Vice President of Developer Relations at RIM,
announced via Twitter several days ago
. Today, Saunders himself shed some light on the matter by stating that the feature will remain part of the BlackBerry PlayBook OS and BlackBerry 10, but it will be different in nature.
"Starting with our next release of the BlackBerry PlayBook OS, we're introducing a feature that will encrypt apps so they can only be run by the user who purchased the app"
, he wrote on the BlackBerry developer blog. Basically, that measure should prevent apps from being distributed the pirate way, without being paid for.
As a result, app piracy is expected to be brought down considerably, which is great news for developers concerned that the issue is having a detrimental effect on their revenue. At the same time, developers will still be able to load apps onto their devices for testing purposes, which is the main idea behind side-loading.