Android 4.1 Jelly Bean for 2012 Xperias starts in mid-Q1 2013, but 2011 Xperias won't get updated
69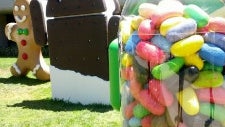 Sony's
2012 Xperia smartphones will start getting updated to Android 4.1 Jelly Bean from the middle of the first quarter of 2013
. Sony confirmed its update schedule for its latest devices like the
Sony Xperia T
,
Xperia TX
and the
Xperia V
.
Those three handsets will be the first ones to get the Jelly Bean update in mid-Q1.
Right after them, Sony will start rolling out Android 4.1 to the
Xperia S
,
Xperia acro S
,
Xperia ion
,
Xperia P
,
Xperia go
and
Xperia J
. The company is not yet specifying when exactly will those devices get the update, but it's coming after the first three phones are updated.
Now, the bad news. The
2011 Xperia smartphone lineup is not getting Android 4.1 Jelly Bean
. Sony has looked into the update and for various reasons has decided that Ice Cream Sandwich is the most those devices can handle. And that really is a pity. Sony has been one of the better companies when it comes to updating phones and transparency about it. It's transparent about this decision as well, and we can only applaud that, but Jelly Bean seems such an essential update for the smoothness of the Android experience that it is a pity for 2011 Xperias to miss it.
It is what it is, though. How do you feel about this news? Share your thoughts in the comments below.
source:
Sony