Analysts differ on impact of China Mobile deal to Apple iPhone sales
2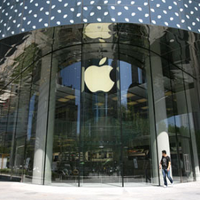 Now that
the long awaited deal between Apple and China Mobile is official
, just how many more Apple iPhone units will Apple sell in China this upcoming year? The number varies from analyst to analyst, but all agree that being able to reach 763 million potential new buyers is a big deal for the Cupertino based Apple. Piper Jaffrey analyst Gene Munster expects Apple to sell an additional 17 million handsets in 2014, thanks to the deal.
Brokerage firm Robert W. Baird & Company has an even higher estimate. Its analyst, William V. Power, sees Apple selling an additional 30 million iPhones next year, thanks to this long awaited deal. And Toni Sacconaghi, an analyst for Sanford C. Bernstein research, expects to see Apple have half that number in additional sales. Sacconaghi says that in 2013, Apple sold 23 million iPhone handsets in China which means that if any of the three analysts' estimates turn out to be correct, there will be plenty of smiles in Apple's executive offices this time next year.
The New York Times is reporting on Sunday that China Mobile pushed Apple to get the deal done because it was losing customers to other operators in the country that carry the phone, like China Telecom and China Unicom. Even without sales from China Mobile, Apple has managed to put itself into a position where it is the fifth largest smartphone manufacturer in China, behind Samsung and a number of low-cost home town producers. Some Chinese OEMs like ZTE, Huawei and Coolpad, are selling Android phones for less than $100. Analysts expect most of the growth in the Chinese smartphone market to take place in the low end of the market, giving those low end Android models an advantage over the iPhone.
Considering that 67% of smartphones purchased in China are bought without a subsidy, pricing is a big factor in determining what sells in the country. While pricing of the
Apple iPhone 5s
and
Apple iPhone 5c
for China Mobile has not been announced, Apple's China based web site is listing the full-featured iPhone 5s for 5288 yuan ($870 USD) while the 16GB Apple iPhone 5c is listed at 4488 yuan ($738 USD). If that pricing turns out to be true, Apple could be pricing itself out of the market.
Of its 763 million subscribers, only 176 million China Mobile subscribers are using a 3G signal. The rest are on 2G. Apple and China Mobile are expected to focus on those 3G users first, trying to get them to upgrade to a 4G LTE plan along with one of the new iPhone models.
source:
Forbes
,
NYTimes