Amazon rumored to be building a mobile payments platform
4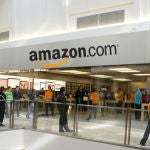 The options for mobile payments are getting to be pretty varied these days. There are NFC-based options like Google Wallet, or Paypal, barcode/WR code scanners like LevelUp, or there are cloud-based options like Square. Now, word has it that Amazon wants to join in on the fun with its own mobile payments platform using that old standby: point-of-sale credit card swiping.
Word is that Amazon is working on a system to be used by local merchants, and would be similar to Square, or PayPal Here, which allow merchants to accept credit card payments. Amazon is also supposedly planning to undercut the competition on the processing fees with rates as low as 1.9 percent, which would be considerably less than the 2.7 percent that is normally charged.
That seems like a pretty solid move for Amazon, and definitely not too surprising. The strange part of the report is that it claims that Amazon is "looking to launch a number of retail stores". This claim wasn't sourced, and we're having trouble verifying it, but it seems pretty far off to us. Physical stores seem to be the antithesis of what has made Amazon successful. Perhaps this mobile payments system could be used by 3rd parties as an extension of the Amazon marketplace, but it's hard to imagine Amazon would have actual retail stores with its name on it.