Amazon reportedly paid $150 million for Goodreads
1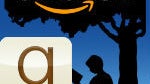 Yesterday, it was announced that Amazon had purchased popular book review/recommendation social network,
Goodreads
. As usual, the financials of the deal weren't announced, but of course that won't stop the estimations from starting. We saw a pretty ridiculous estimation from Bloomberg, but a far more reasonable one has come from those "close to the deal" according to AllThingsD.
Bloomberg Businessweek
somehow estimated that Goodreads was worth $55 per user (Twitter has been valued at $50 per user, and Facebook at about $58), then decided it was a good idea to
round up
from $880 million to a cool billion dollars. That was pretty absurd, so we didn't want to report it until something reasonable came around.
AllThingsD
's Kara Swisher has sources close to the deal who told her that Amazon agreed to pay around $140 to $150 million in stock and cash for Goodreads. That seems like a much easier number to believe.