Amazon Kindle Fire HD 2 redesign shown off in new images
4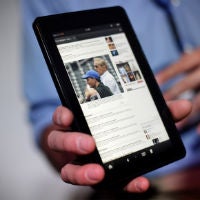 BGR has been all over the leaks about Amazon's upcoming refresh of the Kindle Fire tablet lineup. At this point, we know that the new tablets are planned to have
monster specs
, and
high pixel density displays
; and, we had heard that Amazon was planning a full redesign of the tablets as well. Now, we're getting the first look at what Amazon's new Kindle Fire HD 2 will look like.
The tablet pictured is the mid-range 7-inch tablet in Amazon's lineup, but according to BGR, the 8.9-inch high-end tablet will look identical (though slightly larger). The Kindle Fire tablets are losing the rounded design for a more angular look, and the buttons have been moved. The buttons had been on the
edge
of the device before, and are now on the back of the device for easier access while holding the tablet. Also, the stereo speakers have been moved to the top of the back of the device.
The Kindle Fire HD 2 has a 7-inch 1920x1200 display with a Snapdragon 800, 2GB of RAM, and a choice of 16GB, 32GB, or 64GB of storage. The 8.9-inch model will have the same internals, but a 2560x1600 resolution display, and an 8MP rear camera. Amazon is expected to officially announce the tablets soon.