New Kindle Fire tablets to be spec-busters (Snapdragon 800 and more)
20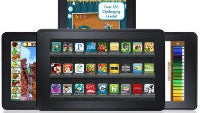 The last time we heard about the next-gen Amazon Kindle Fire tablets, we heard that the displays on the devices would be
packing quite a number of pixels
, and now we're getting a more detailed idea of what to expect from the internals of the devices. And, the good news is that it looks like Amazon is going for some very impressive specs, including the spec nerd dream SoC: the Snapdragon 800.
All of the new Kindle Fire tablets are said to have a quad-core
Qualcomm Snapdragon 800
(MSM8974) system on a chip with prototypes
clocked at 2GHz
, which features four Krait 400 CPUs and Adreno 330 graphics,
2 GB of RAM
, a front-facing camera, and Wi-Fi and cellular options.
The 7-inch Kindle Fire HD tablet has already been reported to be bumping the display resolution to 1,920 x 1,200, while the 8.9-inch Kindle Fire HD model is expected to have a 2,560 x 1,600 resolution display. The 8.9-inch is also expected to have an
8MP rear camera
, but the 7-inch will not feature a rear camera. The entry level 7-incher will reportedly have an 8GB storage option, and all of the tablets will have
16, 32, and 64GB storage options
.
The new Kindle Fires are said to be running Android 4.2.2 with the usual heavy customizations from Amazon. And, the tablets are expected to be
thinner and lighter
than the previous generation with the bezel on the 7-inch model measuring about half an inch all around, and the 8.9-inch model's bezel is about three-quarters of an inch wide.
The tablets are aiming for release in the fall, but there are no prices known yet. The current 7-inch Kindle Fire HD retails for $199, with the 8.9-inch at $269. Given the specs, it is unclear if Amazon will be able to keep the prices that low again.
Recommended Stories