Next-gen Amazon Kindle Fire line to boost display resolutions
4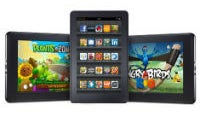 Some still equate the Amazon Kindle name with nothing more than e-readers and limited tablets that are essentially e-readers with better displays, but the Kindle Fire tablets are solid devices that offer quite a bit as far as media consumption when paired with the Amazon Appstore and Amazon Instant Streaming options. Now, new info is saying that the next-generation Kindle Fires will offer big boosts in display resolution.
According to a source for BGR, Amazon is readying three new Kindle Fire tablets which will be released in time for the holiday season this year. There will be the entry level Kindle Fire, which currently sells for about $159. This 7" tablet will reportedly be replaced by something similar to the Kindle Fire HD with the same display size and
1280x800 resolution
.
The Kindle Fire HD (which will likely get a new name since all three options will technically have HD displays) will see the resolution of its 7" display bumped from 1280x800 to 1920x1200. And, the biggest upgrade of all will be for the Kindle Fire HD 8.9, which currently has an 8.9" display with a 1920x1200 resolution. The word is that the upgrade will bring a resolution equal to the Google Nexus 10 at 2560x1600 to the tablet. If true, that would make Amazon's 8.9" tablet the most pixel dense tablet around, with a
PPI of 339
, which would beat out the current leader of the Nexus 10, which has a PPI of about 300.
Unfortunately, no prices are known on the tablets, but currently the Kindle Fire HD and Kindle Fire HD 8.9 sell for $199 and $269 respectively. Though, the Kindle Fire HD is on sale right now for just $169. The next-gen designs are said to have a more angular design and be lighter than the previous models.