Amazon launches its kid-friendly FreeTime Unlimited app on iOS after five years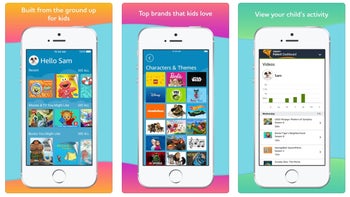 Five years after Amazon's FreeTime Unlimited made its debut on Amazon devices powered by Android, the app is bringing its benefits on iOS. Amazon has just announced that the kid-friendly FreeTime Unlimited app is now available for download via App Store.
For those unaware, FreeTime Unlimited offers children unlimited access to more than 10,000 books specifically curated for a young audience, as well as movies and TV shows with iconic characters from Disney, PBS Kids, Nickelodeon and Nick Jr., Marvel and Amazon Originals.
FreeTime Unlimited is a subscription service for which
Amazon Prime customers
must pay $2.99 for a single child or $7 for a family of up to four children. If you don't have an Amazon Prime subscription, you have to pay $5 for a single child and $10 per family, respectively.
If you plan on getting FreeTime Unlimited on your iOS device, you'll have to pay the subscription through your iTunes account, and the good news is everyone is getting a free 30-day trial.
Recommended Stories