Alltel launches the BlackBerry Pearl Flip 8230 at the beginning of May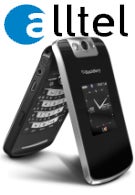 Alltel Wireless has announced it will start sales of the BlackBerry Pearl Flip 8230 smart phone at the beginning of May. The device will be available in Alltel retail stores as well as online for $79.99 after rebate with a two-year contract on all of their Smart Choice Pack plans.
According to Angela Rittgers, director of product management for Alltel Wireless: "Alltel is committed to offering customers stylish and innovative phones, and the BlackBerry Pearl Flip gives customers the best of both worlds – a small, stylish smartphone rich in multimedia coupled with the industry's leading mobile email and messaging capabilities". While this might well be a marketing overstatement as the BlackBerry 8230 is hardly the first cell phone that comes to mind when you mention either style or innovation, still it´s a decent clamshell smart phone that deserves attention. For a complete list of its features, check our spec sheet for the BlackBerry Pearl Flip.
RIM BlackBerry Pearl Flip 8230 Specifications
source: Alltel