All work and all play: Lenovo announces the Miix 510 tablet-laptop hybrid
3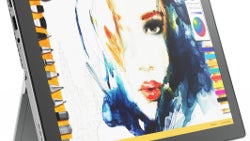 The tablet market isn't doing so well right now, with the exception for the hybrid niche, where demand is on a slight upward slope. Manufacturers are obviously going to explore this opportunity and have started churning out models with different capabilities and applications. Lenovo makes no exception and has just unveiled two new hybrids, the Windows 10-powered Miix 510 being one of them.
The device is obviously made with professionals in mind as it packs a large, 12.2-inch screen with a resolution of 1920 x 1200, which makes it easy to take your spreadsheets and presentations everywhere. The detachable keyboard has an integrated touchpad and backlit keys with increased travel for a more natural writing experience. There's also a separately-sold stylus pen, compatible with Windows Ink for the scribblers and graphics designers out there. The hybrid's kickstand has a 150-degree angle adjustment to ensure comfortable use in various locations and stances.
When you prefer portability over productivity, you can just take the tablet part of the Lenovo Miix 510. It weighs as low as 31 oz (880 g), depending on hardware config, and can support LTE connectivity over your mobile network of choice. Lenovo says that the Miix can endure around 7.5 hours of on time, but that number can fluctuate depending on system configuration and actual usage, obviously.
As far as hardware goes, customers will have a choice from a few tiers of the same model. The processor inside can go up to a 6th gen Core i7, RAM can go up to 8 GB, and the storage on the SSD drive can go up to 1 TB. The starting price for the tiers is $599.99, but it remains to be seen how much the most expensive one will cost.
Recommended Stories