Alcatel POP C9 unveiled: brings color in a phablet-sized Android smartphone
4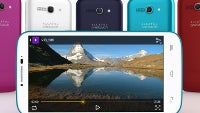 Alcatel has just taken the wraps off its POP C9, the largest Android smartphone in its POP series encompassing devices from the tiny 3.5 inch C1 to this largest, 5.5-inch C9. The Alcatel POP C9 is all about bringing a large screen and quad-core chip in an affordable package. Of course, compromises were inevitable.
The POP C9 is a colorful plastic device coming in a range of colors (Bluish Black, Cherry Red, Full White, Hot Pink or Fresh Turquoise) and bearing a surprising similarity to Samsung's Galaxy S III. The POP C9 comes with a 5.5" LCD IPS display with a resolution of 540 x 960 pixels. This works out to pixel density of the mediocre 200ppi, meaning text and icon edges will appear jagged.
Under the hood, the Alcatel POP C9 features a 1.3GHz quad-core chip. It sports an 8-megapixel auto-focus rear camera capable of recording 1080p videos, and a 2-megapixel front-facing shooter. The handset ships with a 2500mAh battery.
In terms of software, we only know that the POP C9 will run on an unspecified version of Android with a light skin on top adding some custom widgetry. Alcatel has not yet revealed the price of the POP C9, but we are definitely talking about mid-range levels, so it should be affordable.