Alcatel One Touch Scribe X hands-on
2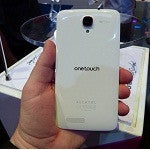 The Alcatel One Touch Scribe X is the manufacturer's premium handset, featuring a quad-core processor, HD display and a stylus, just like its Scribe HD cousin.
What separates the Scribe X from the Scribe HD? The MediaTek CPU has a small bump in specs, measuring at 1.4GHz. The camera has a bump as well, coming in at 12MP versus the HD's 8MP shooter. There is a nice sized battery on board at 2,500mAh which should provide adequate power to navigate through the Android 4.1 Jelly Bean which is on board.
The form factor and build quality is apparent when holding the Scribe X. It joins other high-end Android devices in the 5-inch display realm. Unfortunately, Alcatel had no dates, prices or carriers to link to this nice looking device. PhoneArena.com is on the list to get word about any pending release of the Scribe X, or any of the other One Touch smartphones coming from Alcatel.