Alcatel One Touch Scribe HD hands-on
2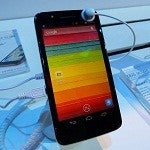 Alcatel's One Touch Scribe HD is a higher-level handset joining the new 5-inch screen crowd. The Scribe HD features a nice looking 5-inch HD IPS display showcasing Android 4.1 Jelly Bean.
There is a noticeable bump in the other specifications compared to the "Go Pop" devices. The processor is a quad-core 1.2GHz MediaTek chip. The main camera is 8MP with LED flash and the front facing camera is 1.3MP with 720p recording ability.
There is a standard 2GB storage on board and the Scribe HD supports microSD cards up to 32GB. The Scribe HD will also come with a stylus, though no display styli were on-hand to try on the display units. The stylus is pen-sized, so it will find a home in a shirt pocket. There is an LTE variant of this device apparently in the works. There was no carrier announcement for the Scribe HD, nor was there a release date or price point offered.
Holding this device in the hand it has a good apparent build quality, and it fits well in the hand. The Scribe HD will be available in a lot of different colors too.